Bob D'Angelo
Bob is a longtime member of the Florida sports media, having served as a reporter and copy editor for more than 30 years. His true sports passion, however, is the history of the various games, exhibited by his in-depth book reviews and hobby of collecting cards and other sports memorabilia. He blogs for TBO.com on both subjects, transferring his work for the Tampa Tribune to the realm of cyberspace.
E-Mail The Bookie:
Have a question or comment for Bob?
On Twitter:
Follow Bob here:
Most Recent Entries
Monthly Archives
A fresh, entertaining look at the 1991 World Series
Posted Apr 16, 2014 by Bob D'Angelo
Updated Apr 16, 2014 at 09:26 PM
What was the best World Series? That's a subjective question. For some, it depends on the team one roots for. Phillies fans can point to their first World Series crown in 1980, and Blue Jays fans can talk about Joe Carter's home run ending the 1993 Series. Others could argue that the 1960 World Series between the Pirates and Yankees was compelling, while fans of the 1975 postseason classic could point to the Reds-Red Sox clash as epic.
And if you're a Yankees fan, you have 27 different World Series titles to choose from, including the 1962 meeting with the Giants that ended with New York winning 1-0 in a dramatic Game 7. Or perhaps, the 1977 Series against the Dodgers that featured Reggie Jackson's three homers in Game 6 that gave New York its first championship since 1962.
But were all of these really great, from start to finish? Probably not. But the 1991 World Series is an exception. Five games were decided by one run, four games were in doubt until the final pitch — and three games went into extra innings, including a taut Game 7 that was scoreless until the bottom of the 10th. And, the home team won each game.
That's a compelling World Series. Add author Tim Wendel into the mix, and the reader is in for a treat. "Down to the Last Pitch: How the 1991 Minnesota Twins and the Atlanta Braves Gave Us the Best World Series of All Time" (Da Capo Press; hardback; $25.99, 272 pages) is Wendel at his best — an engaging storyteller, a writer not afraid to explore different angles, and an author capable of building a dramatic finish (even though we already know what happened).
Wendel used this formula to great advantage in his 2012 work, "The Summer of '68," but the World Series was just a part of that narrative. "Down to the Last Pitch" focuses on all seven games between the Minnesota Twins and the Atlanta Braves — two small-market teams that enjoyed worst-to-first seasons en route to the Fall Classic.
The '91 Series was the first Wendel covered as a journalist, writing for USA Today Baseball Weekly. In addition to the game summaries, each chapter contains a subplot: labor issues, steroids, the rise of agents like Scott Boras, a retrospective piece about Roger Maris, AIDS and the construction of Camden Yards are a few of the subjects Wendel discusses. There is also a hilarious exchange with Rickey Henderson, as Wendel tried to engage him because the Athletics' speedster was scheduled to be on the premiere cover of Baseball Weekly. Henderson wasn't talking to the media because of a contract dispute, but somehow Wendel convinced him that his questions had more to do with Henderson breaking Lou Brock's all-time stolen base record than contract squabbles.
"Rickey and Lou. … Rickey would like that," Henderson said in the third-person banter he always used.
Game 3 was a 12-inning thriller, settled when David Justice scored on Mark Lemke's single. Game 4 pitted Atlanta's John Smoltz against his boyhood idol, Jack Morris, and that game ended with a close play at the plate, as Lemke scored on Jerry Willard's sacrifice fly.
Game 6, with Atlanta ahead three games to two, was decided on Kirby Puckett's signature at-bat, a home run in the bottom of the 11th inning that forced game 7. In fact, Puckett's gleeful, right-fist-in-the-air gesture as he rounded the bases adorns the cover.
And Game 7 was a scoreless duel for the ages between Morris and Smoltz. Long after Smoltz left the game, Morris was still toiling — and he was not going to give up the ball to Twins manager Tom Kelly.
"I'm not coming out of this game," Morris told him. "There's no way I am coming out of this game."
Gene Larkin ended the scoreless game in the bottom of the 10th with a hit that bounded over the heads of Atlanta's drawn-in outfield, and a classic World Series had ended. The scores favored the Twins, four games to three, but there really was no loser.
"Somebody had to go home a loser," Morris said years later. "But nobody was a loser in my mind."
Once again, Wendel sheds new light on a memorable baseball event. And as Steve Hirdt of Elias Sports Bureau noted, the 1991 World Series "in a lot of ways will always be this sweet spot in time."
And "Down to the Last Pitch" is sweet to read.
---
Leaf heads to auction with Manziel predictor packs
Posted Apr 14, 2014 by Bob D'Angelo
Updated Apr 14, 2014 at 08:33 PM
Leaf is taking a different approach to reaching consumers — through eBay. And the lure is former Texas A&M quarterback Johnny Manziel.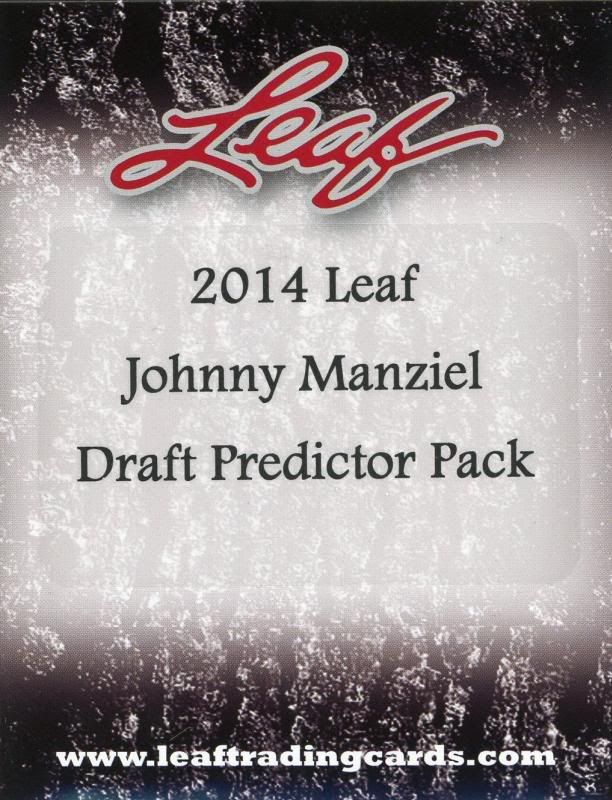 Leaf is offering draft predictor packs for $9.99, plus $2.99 for shipping. Each pack will feature Manziel against a backdrop of the city skyline of one of the 32 teams that might draft Johnny Football in the upcoming NFL draft.
There will be 41 cards of each team, or 1,312 total packs.
Nearly 10 bucks plus three more for standard shipping seems steep, but here's the enticement. If a collector pulls the card depicting the team that drafts Manziel in the draft, it can be redeemed through Leaf for an autographed version of that card. Naturally, there will only be 41 of these cards in the set.
Leaf will only accept payment through PayPal, and orders only from the continental 48 states.
Here is the link to the auction:
http://www.ebay.com/itm/2014-Leaf-Johnny-Manziel-Draft-Predictor-Packs-eBay-Exclusive-/331177628692?
By the way, the eBay "seller," leaftradingcards, has a 100 percent positive feedback rating.
---
Panini provides a look at 2013-14 Signatures basketball product
Posted Apr 14, 2014 by Bob D'Angelo
Updated Apr 14, 2014 at 07:10 PM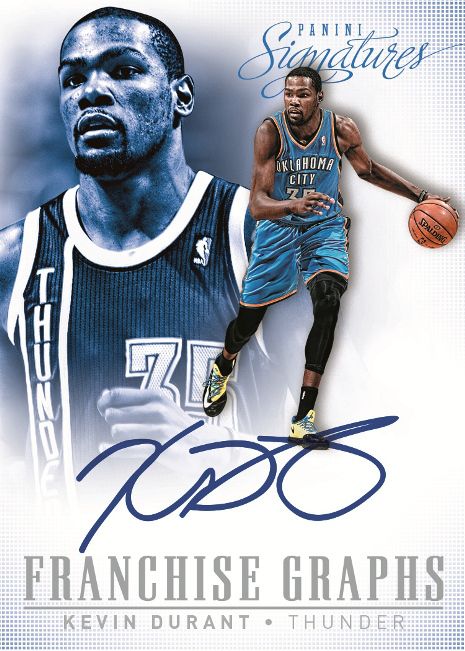 For its second installment of Signatures basketball, Panini America is hoping that its relatively light boxes will yield some heavy hits for collectors.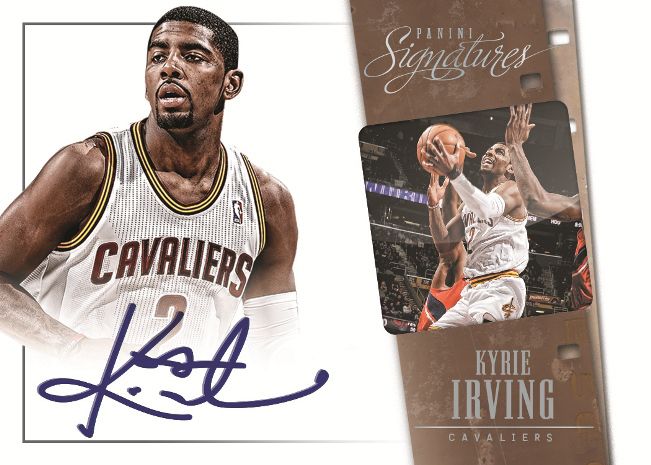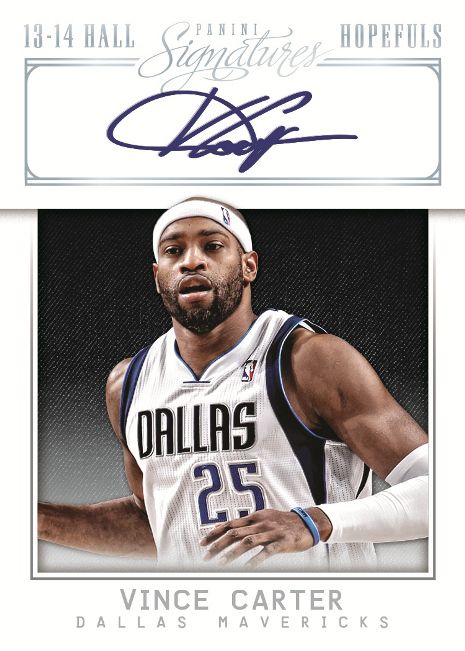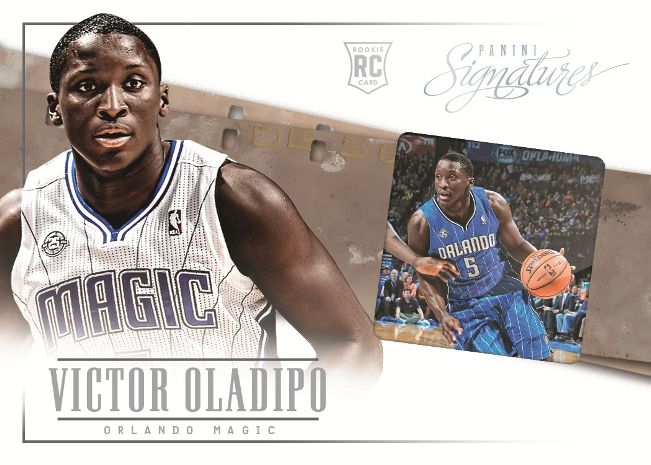 OK, I don't know the weight for a box of 2013-14 Signatures basketball, but I do know that each box will contain two packs, with two cards to a pack. Panini is promising two autographs, one Film card and a Chase insert card (it could be a rookie or a veteran) per box.
Also included in each box will be a 2014 NBA draft exchange card that will be good for a rookie from the 2013-14 draft.
Some highlights: the Film rookies autographs will draw from 25 of the NBA's top rookies. There will be seven new autograph inserts, including History of the Hall and Franchise Graphs.
The Chase cards will be numbered to 25 or less.
---
Recalling an iconic weekend at the Masters
Posted Apr 12, 2014 by Bob D'Angelo
Updated Apr 13, 2014 at 05:01 PM
With this year's Masters in full swing, the anticipation builds as golf fans wonder what drama might unfold at the Augusta National Golf Course.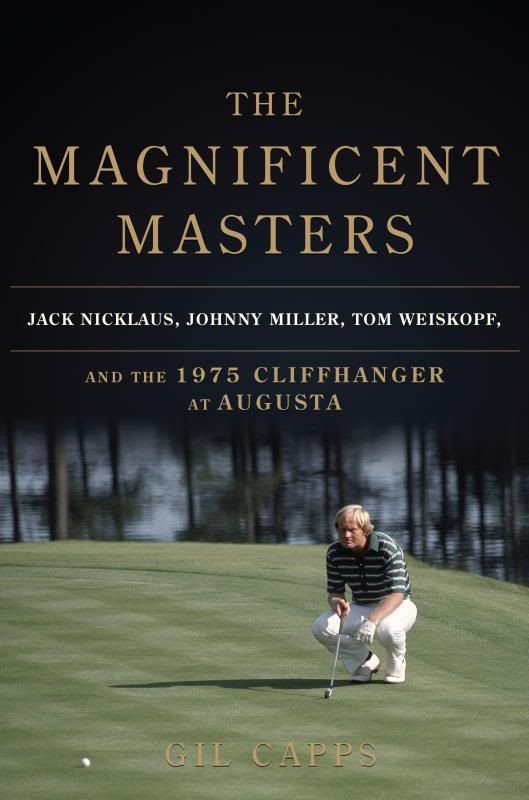 There has been plenty of drama at the Masters. But for sheer nail-biting, suspenseful and clutch play, the 1975 tournament in Augusta, Ga., should rank among the greats. It would, St. Petersburg Times columnist Hubert Mizell wrote, "become the measuring stick for golfing drama."
Author Gil Capps captures that suspense perfectly in his book, "The Magnificent Masters: Jack Nicklaus, Johnny Miller, Tom Weiskopf, and the 1975 Cliffhanger at Augusta" (Da Capo Press; hardback; $25.99; 312 pages). Capps, an associate producer on NBC's golf telecasts and managing editor at the Golf Channel, is right on the mark when he writes that in 1975, "the best course, designed by the best architect, that hosted the best tournament had been won by the best golfer in the best finish."
Capps' narrative puts the reader into the heads of the 1975 Masters' three major players — Jack Nicklaus, who would win an unprecedented fifth Masters that weekend; Johnny Miller, a blunt, confident young player who wanted to dethrone Nicklaus as the game's best, and who had stated his case by winning 11 events in the previous 15 months; and Tom Weiskopf, a colorful, long driving hitter who had won one major and was a four-time runner-up at Augusta.
Having these three men arrive at the 18th green at Augusta National on Sunday separated by one shot was "something a bit special," tournament chairman Clifford Roberts said.
Nicklaus had not won a major since the 1973 PGA Championship. That same year, Miller won the U.S. Open with a final-round 63, while Weiskopf won the British Open. By 1975, all three men were considered top contenders at the Masters. They didn't disappoint.
What is compelling about Capps' writing is his ability to break down complicated golfing mechanics in a way that doesn't insult savvy golf fans and yet educates neophytes. He writes plainly and clearly about golfers' stances, how they prepare for tournaments, club selection, and even interaction with their caddies. It gives the reader a better appreciation of how golfers approach their craft.
Capps also writes in great detail about how the players handled their golf equipment. One particular passage about Miller's clubs is typical.
Miller refinished his woods himself, "shellacking the the wood with two parts linseed oil, one part orange shellac, re-wrapping the hosels, and regripping the shafts." Miller's 4-wood was an ivory inserted Tommy Armour pre-World War II model. His 3-wood was also an Armour model, a 1948 shallow-faced club. His driver — another Armour club — was a 1955 Velocitized model with 10.5 degrees of loft.
Golf is a game of strategy and nuance, and Capps demonstrates how Augusta National challenged the game's greats. For example, there are no water holes on the front nine, but there are five holes with water hazards on the back nine, including at Amen Corner (holes 11 through 13). Weather also played a factor, with swirling winds bedeviling players during Saturday's third round.
"Augusta was getting its teeth back," Capps writes.
The best part of "The Magnificent Masters" is Capps' narrative about the tense final round, in which Nicklaus outlasted Weiskopf and a charging Miller to win his fifth green jacket. What's also interesting are the detailed profiles Capps offers about each player. Nicklaus was the son of an Ohio pharmacist, the first golfer to make the four major tournaments his focus each year. The number of tournaments he won would not be his benchmark — how well he did in the Masters, British Open, U.S. Open and PGA Championship would be his measuring stick. Not surprisingly, Nicklaus has more wins in major tournaments (18) than any other golfer.
He was inspired by the words of Masters co-founder Bobby Jones, who told a young Nicklaus that he was the future of golf.
Miller inherited his father's "genetic wiring," Capps writes — "inquisitive mind, creative veins, energetic soul" — but away from the game, he was more like his Mormon mother, reserved and peaceful. Miller's father gave him mental toughness, instilling self-esteem and work ethic. His first paycheck on the PGA Tour totaled $810, but "it never occurred to me that I could make money."
"Money, really, money?" Miller tells Capps. "I guess it was for the purest reasons that I turned pro."
Weiskopf was born into a golfing family; his mother was a champion amateur player and met his father on a golf course. But his relationship with the elder Tom Weiskopf was strained.
"Unlike the Nicklauses, they were not buddies," Capps writes. "Unlike the Millers, they were not father and protege."
The elder Weiskopf's drinking also impacted their relationship.
What made Tom Weiskopf a successful golfer also held him back, Capp writes. Hi golf swing started from an erect posture that had "an arrogance and an elegance to it." His fundamentals were sound and his swing was sweet.
"There was a grace and smoothness rare for a tall man who always finished perfectly on balance," Capps writes.
But Weiskopf was a perfectionist who couldn't stand mediocrity. His mood swings on the course "could change his personality in a flash." Fair or not, he had obtained a reputation as a hothead and an underachiever, Capps writes.
Of the three men Capps portrays, Weiskopf is the most complicated — and the most endearing.
Capps also puts the groundbreaking appearance of Lee Elder, the first black to play in the Masters, into perspective.
Capps has written an absorbing, informative book on a turning point in the Masters. Before 1975, it was a major, but just another tournament. After 1975's epic duel, the Masters grew into what it is today — an iconic tournament that thrives on tradition, steely nerves and wondrous golf shots.
Capps brings all of that to life in "The Magnificent Masters."

---
Aaron auto is mystery redemption card No. 1 for 2014 Topps Tribute
Posted Apr 8, 2014 by Bob D'Angelo
Updated Apr 8, 2014 at 05:16 PM
Topps put the hammer down Tuesday in announcing its firsrt autograph mystery redemption card for 2014 Topps Tribute.
On the 40th anniversary of Henry Aaron passing Babe Ruth on the all-time home run list, Topps announced that Aaron will be mystery redemption #1. Collectors who pull that card will receive an exclusive 40th anniversary card autographed by Aaron.
Aaron's home run on national television was thrilling, but what endures is Milo Hamilton's call for the Braves. Classic stuff. Sports Illustrated, in the issue following Aaron's milestone homer off Dodgers pitcher Al Downing, had a photo of the Hammer holding up the ball and a simple headline: 715.
That's all that was needed. Every baseball fan knew the significance.
Aaron endured the hate mail and racial epithets as he chased Ruth with the class and dignity that he always displayed. Instead of being thrilled when he broke the mark, Aaron was simply "relieved" that it was over.
An Aaron autograph by Topps is the perfect redemption card. Even though he is now 80, and the signature is no longer as clear as it once was, Aaron's autograph still should resonate with collectors.
Those collectors who pull redemption #2 will receive an autographed rookie card of Cuban slugger Jose Abreu.
---