Bob D'Angelo
Bob is a longtime member of the Florida sports media, having served as a reporter and copy editor for more than 30 years. His true sports passion, however, is the history of the various games, exhibited by his in-depth book reviews and hobby of collecting cards and other sports memorabilia. He blogs for TBO.com on both subjects, transferring his work for the Tampa Tribune to the realm of cyberspace.
E-Mail The Bookie:
Have a question or comment for Bob?
On Twitter:
Follow Bob here:
Most Recent Entries
Monthly Archives
Leaf heads to auction with Manziel predictor packs
Posted Apr 14, 2014 by Bob D'Angelo
Updated Apr 14, 2014 at 08:33 PM
Leaf is taking a different approach to reaching consumers — through eBay. And the lure is former Texas A&M quarterback Johnny Manziel.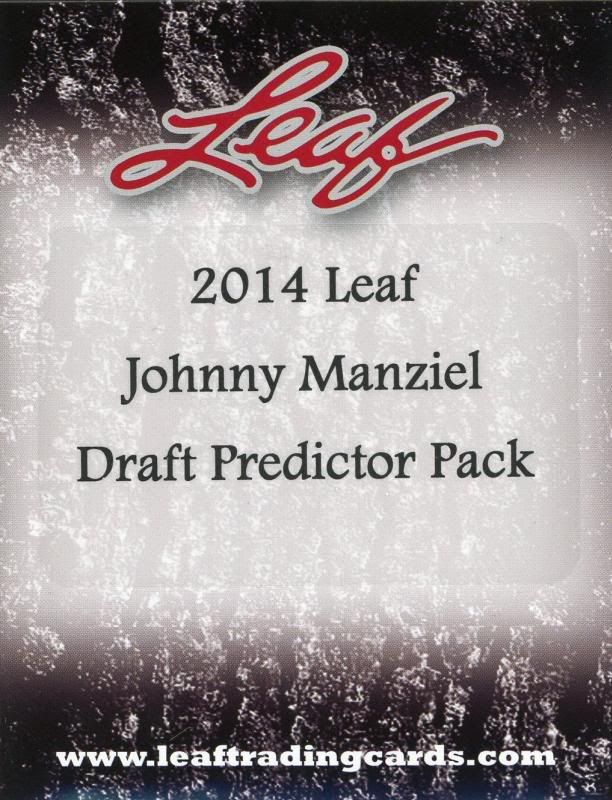 Leaf is offering draft predictor packs for $9.99, plus $2.99 for shipping. Each pack will feature Manziel against a backdrop of the city skyline of one of the 32 teams that might draft Johnny Football in the upcoming NFL draft.
There will be 41 cards of each team, or 1,312 total packs.
Nearly 10 bucks plus three more for standard shipping seems steep, but here's the enticement. If a collector pulls the card depicting the team that drafts Manziel in the draft, it can be redeemed through Leaf for an autographed version of that card. Naturally, there will only be 41 of these cards in the set.
Leaf will only accept payment through PayPal, and orders only from the continental 48 states.
Here is the link to the auction:
http://www.ebay.com/itm/2014-Leaf-Johnny-Manziel-Draft-Predictor-Packs-eBay-Exclusive-/331177628692?
By the way, the eBay "seller," leaftradingcards, has a 100 percent positive feedback rating.
---
Panini provides a look at 2013-14 Signatures basketball product
Posted Apr 14, 2014 by Bob D'Angelo
Updated Apr 14, 2014 at 07:10 PM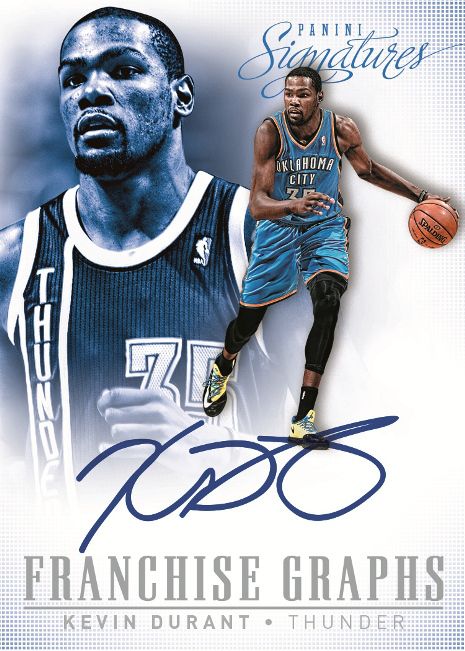 For its second installment of Signatures basketball, Panini America is hoping that its relatively light boxes will yield some heavy hits for collectors.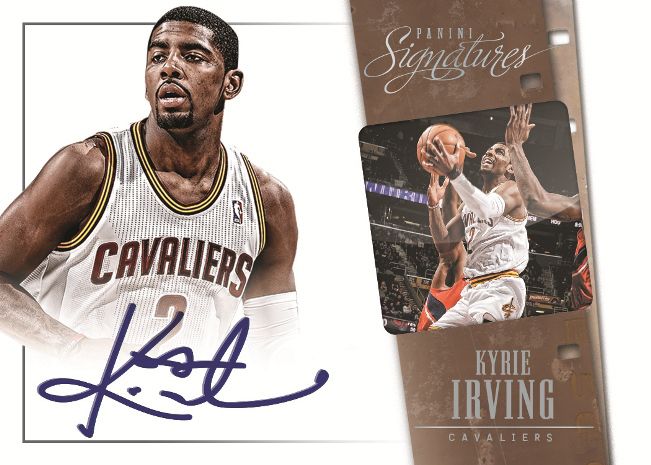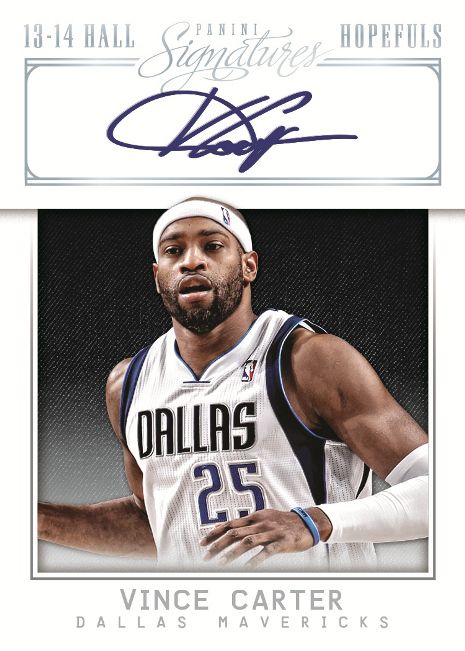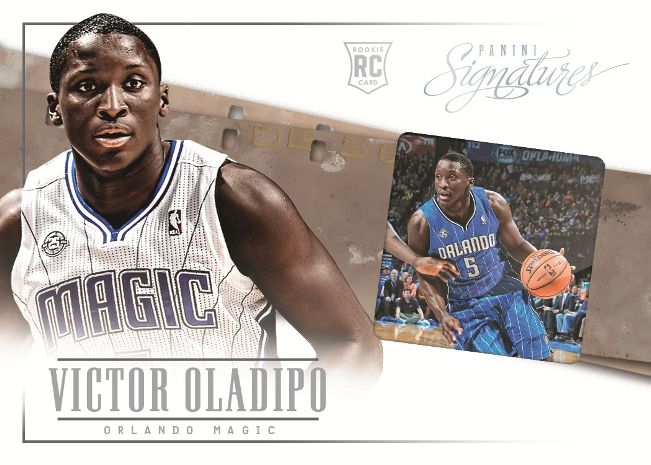 OK, I don't know the weight for a box of 2013-14 Signatures basketball, but I do know that each box will contain two packs, with two cards to a pack. Panini is promising two autographs, one Film card and a Chase insert card (it could be a rookie or a veteran) per box.
Also included in each box will be a 2014 NBA draft exchange card that will be good for a rookie from the 2013-14 draft.
Some highlights: the Film rookies autographs will draw from 25 of the NBA's top rookies. There will be seven new autograph inserts, including History of the Hall and Franchise Graphs.
The Chase cards will be numbered to 25 or less.
---
Recalling an iconic weekend at the Masters
Posted Apr 12, 2014 by Bob D'Angelo
Updated Apr 13, 2014 at 05:01 PM
With this year's Masters in full swing, the anticipation builds as golf fans wonder what drama might unfold at the Augusta National Golf Course.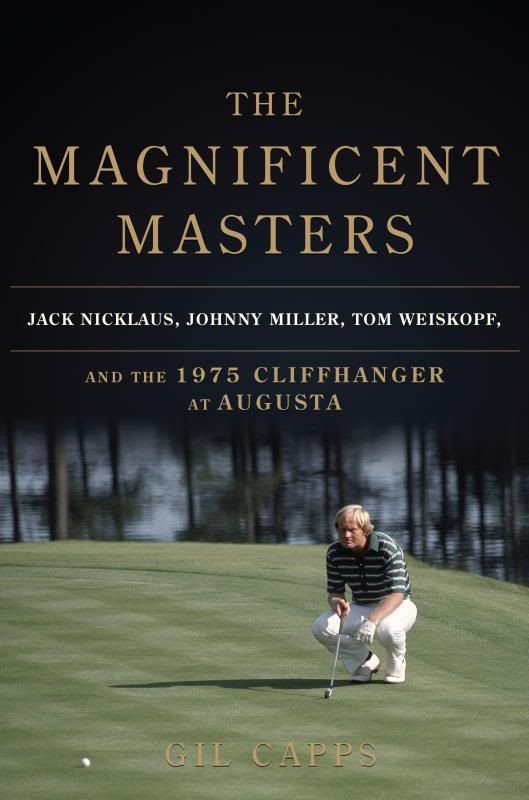 There has been plenty of drama at the Masters. But for sheer nail-biting, suspenseful and clutch play, the 1975 tournament in Augusta, Ga., should rank among the greats. It would, St. Petersburg Times columnist Hubert Mizell wrote, "become the measuring stick for golfing drama."
Author Gil Capps captures that suspense perfectly in his book, "The Magnificent Masters: Jack Nicklaus, Johnny Miller, Tom Weiskopf, and the 1975 Cliffhanger at Augusta" (Da Capo Press; hardback; $25.99; 312 pages). Capps, an associate producer on NBC's golf telecasts and managing editor at the Golf Channel, is right on the mark when he writes that in 1975, "the best course, designed by the best architect, that hosted the best tournament had been won by the best golfer in the best finish."
Capps' narrative puts the reader into the heads of the 1975 Masters' three major players — Jack Nicklaus, who would win an unprecedented fifth Masters that weekend; Johnny Miller, a blunt, confident young player who wanted to dethrone Nicklaus as the game's best, and who had stated his case by winning 11 events in the previous 15 months; and Tom Weiskopf, a colorful, long driving hitter who had won one major and was a four-time runner-up at Augusta.
Having these three men arrive at the 18th green at Augusta National on Sunday separated by one shot was "something a bit special," tournament chairman Clifford Roberts said.
Nicklaus had not won a major since the 1973 PGA Championship. That same year, Miller won the U.S. Open with a final-round 63, while Weiskopf won the British Open. By 1975, all three men were considered top contenders at the Masters. They didn't disappoint.
What is compelling about Capps' writing is his ability to break down complicated golfing mechanics in a way that doesn't insult savvy golf fans and yet educates neophytes. He writes plainly and clearly about golfers' stances, how they prepare for tournaments, club selection, and even interaction with their caddies. It gives the reader a better appreciation of how golfers approach their craft.
Capps also writes in great detail about how the players handled their golf equipment. One particular passage about Miller's clubs is typical.
Miller refinished his woods himself, "shellacking the the wood with two parts linseed oil, one part orange shellac, re-wrapping the hosels, and regripping the shafts." Miller's 4-wood was an ivory inserted Tommy Armour pre-World War II model. His 3-wood was also an Armour model, a 1948 shallow-faced club. His driver — another Armour club — was a 1955 Velocitized model with 10.5 degrees of loft.
Golf is a game of strategy and nuance, and Capps demonstrates how Augusta National challenged the game's greats. For example, there are no water holes on the front nine, but there are five holes with water hazards on the back nine, including at Amen Corner (holes 11 through 13). Weather also played a factor, with swirling winds bedeviling players during Saturday's third round.
"Augusta was getting its teeth back," Capps writes.
The best part of "The Magnificent Masters" is Capps' narrative about the tense final round, in which Nicklaus outlasted Weiskopf and a charging Miller to win his fifth green jacket. What's also interesting are the detailed profiles Capps offers about each player. Nicklaus was the son of an Ohio pharmacist, the first golfer to make the four major tournaments his focus each year. The number of tournaments he won would not be his benchmark — how well he did in the Masters, British Open, U.S. Open and PGA Championship would be his measuring stick. Not surprisingly, Nicklaus has more wins in major tournaments (18) than any other golfer.
He was inspired by the words of Masters co-founder Bobby Jones, who told a young Nicklaus that he was the future of golf.
Miller inherited his father's "genetic wiring," Capps writes — "inquisitive mind, creative veins, energetic soul" — but away from the game, he was more like his Mormon mother, reserved and peaceful. Miller's father gave him mental toughness, instilling self-esteem and work ethic. His first paycheck on the PGA Tour totaled $810, but "it never occurred to me that I could make money."
"Money, really, money?" Miller tells Capps. "I guess it was for the purest reasons that I turned pro."
Weiskopf was born into a golfing family; his mother was a champion amateur player and met his father on a golf course. But his relationship with the elder Tom Weiskopf was strained.
"Unlike the Nicklauses, they were not buddies," Capps writes. "Unlike the Millers, they were not father and protege."
The elder Weiskopf's drinking also impacted their relationship.
What made Tom Weiskopf a successful golfer also held him back, Capp writes. Hi golf swing started from an erect posture that had "an arrogance and an elegance to it." His fundamentals were sound and his swing was sweet.
"There was a grace and smoothness rare for a tall man who always finished perfectly on balance," Capps writes.
But Weiskopf was a perfectionist who couldn't stand mediocrity. His mood swings on the course "could change his personality in a flash." Fair or not, he had obtained a reputation as a hothead and an underachiever, Capps writes.
Of the three men Capps portrays, Weiskopf is the most complicated — and the most endearing.
Capps also puts the groundbreaking appearance of Lee Elder, the first black to play in the Masters, into perspective.
Capps has written an absorbing, informative book on a turning point in the Masters. Before 1975, it was a major, but just another tournament. After 1975's epic duel, the Masters grew into what it is today — an iconic tournament that thrives on tradition, steely nerves and wondrous golf shots.
Capps brings all of that to life in "The Magnificent Masters."

---
Aaron auto is mystery redemption card No. 1 for 2014 Topps Tribute
Posted Apr 8, 2014 by Bob D'Angelo
Updated Apr 8, 2014 at 05:16 PM
Topps put the hammer down Tuesday in announcing its firsrt autograph mystery redemption card for 2014 Topps Tribute.
On the 40th anniversary of Henry Aaron passing Babe Ruth on the all-time home run list, Topps announced that Aaron will be mystery redemption #1. Collectors who pull that card will receive an exclusive 40th anniversary card autographed by Aaron.
Aaron's home run on national television was thrilling, but what endures is Milo Hamilton's call for the Braves. Classic stuff. Sports Illustrated, in the issue following Aaron's milestone homer off Dodgers pitcher Al Downing, had a photo of the Hammer holding up the ball and a simple headline: 715.
That's all that was needed. Every baseball fan knew the significance.
Aaron endured the hate mail and racial epithets as he chased Ruth with the class and dignity that he always displayed. Instead of being thrilled when he broke the mark, Aaron was simply "relieved" that it was over.
An Aaron autograph by Topps is the perfect redemption card. Even though he is now 80, and the signature is no longer as clear as it once was, Aaron's autograph still should resonate with collectors.
Those collectors who pull redemption #2 will receive an autographed rookie card of Cuban slugger Jose Abreu.
---
Taking a closer look at the Ryan Express
Posted Apr 8, 2014 by Bob D'Angelo
Updated Apr 8, 2014 at 12:41 PM
In August 1970, 14-year-old Rob Goldman needed Nolan Ryan's autograph to complete a collection of key members of the New York Mets, the defending World Series champions. At a Houston hotel, Goldman knocked on Ryan's door, where he met Nolan and his wife, Ruth. He was welcomed warmly, got the signature he needed, and the beginnings of a four-decade friendship began.
"I am still awed by the basic human kindness they showed to a boy intruding on their precious time and space," Goldman writes in "Nolan Ryan: The Making of a Pitcher" (Triumph Books; hardback; $29.95, 366 pages).
Goldman would cross paths again with Ryan later in the 1970s when he became a batboy for the California Angels. He visited the Ryans often and even drove Nolan's car from Texas to spring training on the West Coast.
It would appear at first glance that Goldman's approach to a biography of Ryan would border on hero worship. Surprisingly — and fortunately — Goldman has managed to strike a balance between his own personal experience and the facts about Ryan's career. He spent five years researching Ryan, interviewing players, coaches, managers and trainers. He interviewed friends and adversaries. He also cites from seven books Ryan wrote or co-authored. Predictably, what results is a biography that puts Ryan in a positive light. There's nothing wrong with that.
Major-league fans who saw Ryan pitch will remember his 324 wins, his 5,714 strikeouts (including a record 383 in 1973), and that blazing fastball that topped 100 mph and paved the way for a record seven no-hitters. They also will recall a circle change he developed late in his 27-year career, and a wild streak that enabled him to record the most walks (2,795) in baseball history.
Goldman gives the reader more. He focuses on Ryan's near-fanatic work ethic ("he was a maniac working," former Yankees closer Mariano Rivera observed), his loyalty and character. He also gives the readers more family-oriented details; the book begins with Ryan's courtship and eventual marriage to his wife. Goldman guides the reader on a chronological journey through Ryan's baseball career, from his youth in Alvin, Texas, through the minors and finally in the major leagues. He documents contract squabbles, and disagreements with management about whether he should pitch on three days rest or four. Ryan logged some incredible innings, and his pitch count during the 1970s were enough to make a modern-day pitching coach reach for smelling salts.
Goldman provides some interesting nuggets: Ryan was dyslexic, and his great-great-great-great grandfather (Isaac Milton Ryan) died at the Alamo. He also mentions the night Ryan pitched for the Marion Mets in a minor-league game in Virginia and was cheered by an "enthusiastic group of patients" from a nearby mental hospital "who screamed at every pitch like it was the seventh game of the World Series."
This is not Goldman's first book. He has written two others: "Once They Were Angels," a history of the Angels, and helped former outfielder Tim Salmon with his memoir, "Always an Angel."
In the Ryan biography, Goldman writes that Ryan was gracious and kind off the field, but once he stepped on a baseball field, he was an intimidating figure who was not afraid to brush back a hitter. And woe to a rookie to tried to bunt on him. Goldman references a story in which the Reds' Buddy Bell sets up a rookie, telling him to "just drag bunt, because the old man can't field his position."
The rookie bunted, but foul. As Astros' strength coach Gene Coleman tells it, "Nolan walks in toward the catcher, gets the ball, and looks the kid in his eye — just kind of stares at him with that John Wayne look he had."
"The next pitch separated the kid from his helmet."
Even managers walked lightly around Ryan. Bobby Valentine, managing the Texas Rangers, once visited the mound. Ryan got his point across quickly.
"One of us is leaving mound," he told Valentine, "and it ain't gonna be me!"
Valentine left.
And yet, Goldman presents a generous side to Ryan, a pitcher willing to help an opposing pitcher who needed advice.
Randy Johnson was struggling in 1992, Goldman writes, with a 7-12 record and leading the American League in walks, wild pitches and hit batters. Ryan intervened and met Johnson in the tunnel between clubhouses in Seattle, explained what the young pitcher was doing wrong and suggested how to correct it.
Johnson would win his next four starts and go 5-2 the rest of the season. While he had only one game with double-digit strikeouts before meeting with Ryan, Johnson had six games of 10 or more strikeouts after that.
"I was surprised someone else playing in a different organization would actually take me aside and try and help me," Johnson said.
Roger Clemens told a similar story, noting that Ryan's observations and compliments carried "a ton of weight."
"Those are compliments from the best of the best," Clemens said.
Goldman generally keeps his facts straight in his book, but there are a few glitches. For example, he notes that the Astros' spring training site in Florida was in Cocoa Beach, when in fact it was across the Intracoastal Waterway in Cocoa.
He also gets the timeline a little fuzzy about when Mets scout Red Murff first saw Ryan, although the mistake appears to have been Murff's. The scouting card Murff prepared noted that Ryan threw "much harder than Jim Maloney of the Cincinnati Reds or Turk Farrell of the Houston Colt .45s. (I saw them pitch Thursday night, 4-23-63)."
But neither Maloney nor Farrell pitched on April 23, 1963, which was a Monday, not a Thursday.
Those are minor issues.
Ryan's list of strikeout victims range from Hall of Famers to journeymen, and while wild, batters rarely charged the mound. Dave Winfield and Robin Ventura are two who did — Ryan earned a split decision, losing to Winfield and getting the best of Ventura.
Hall of Famer Rickey Henderson probably summed up Ryan's impact best after becoming strikeout victim No. 5,000.
"If you haven't been struck out by Nolan Ryan, you're nobody," he said.
Goldman, despite his closeness to the Ryan family, has put together a fair, definitive biography of a pitcher who was able to sustain an incredibly long and successful career, then morph into a businessman and baseball executive. It's a good story.
---