Bob D'Angelo
Bob is a longtime member of the Florida sports media, having served as a reporter and copy editor for more than 30 years. His true sports passion, however, is the history of the various games, exhibited by his in-depth book reviews and hobby of collecting cards and other sports memorabilia. He blogs for TBO.com on both subjects, transferring his work for the Tampa Tribune to the realm of cyberspace.
E-Mail The Bookie:
Have a question or comment for Bob?
On Twitter:
Follow Bob here:
Most Recent Entries
Monthly Archives
Novel explores temptations, ramifications of steroid use
Posted Mar 10, 2014 by Bob D'Angelo
Updated Mar 11, 2014 at 12:00 AM
James Bailey has a writing style that is as smooth as the left-handed swing of Del Tanner, the main character in his second novel. Once again, the Rochester, N.Y., author has written an engaging story with characters readers can relate to — even if the underlying theme is the use of performance-enhancing drugs.
"Nine Bucks a Pound" (Sun Field Press; paperback; $13.95 paperback, $3.99 Kindle; 338 pages) explores steroid use and the decisions struggling minor-league players sometimes must face. Is it better to toil in mediocrity and never realize your dream of making the majors, or is it better to go outside the rules for that extra edge that could land you on a big-league roster?
That's the question facing Tanner, a slick-fielding first baseman in the Minnesota Twins' minor-league system whose hitting stroke lacks a key element — power. It's true in the major leagues — teams are not looking for slick fielders like Travis Lee. They want the power an Albert Pujols can generate.
Steering Tanner toward his decision is Ian Wicker, an aspiring young agent who is struggling to build a stable of clients. If he fails, there is "a cubicle waiting for him in his father's law firm" in Los Angeles. Already taunted as being a lightweight by other agents, Wicker cannot escape their scorn even when he sets up a gathering for prospective clients ("cute little party you've got going here. Must have cost your old man a couple of bucks.").
Both Tanner and Wicker can see the writing on the wall. Tanner, expecting to be cut, manages to stay on his minor-league roster when the man ahead of him is injured. When Wicker suggests Tanner use steroids to bulk up and gain power, Del gives in to the temptation. His career — and conscience — will never be the same. Tanner must weather criticism from the media and must struggle to keep the love of his life, Dana Skoog, in his corner. He makes enough mistakes to leave himself open to attack on both fronts.
It's easy to dismiss those players who use performance-enhancing drugs as cheaters who will do anything to get an edge. And Bailey, in "Nine Bucks a Pound," is not trying to make heroes of those who crossed the line. But it's hard not to sympathize with Tanner, who makes it to the majors, becomes the American League rookie of the year, and then has to face a firestorm when his denials about steroid use begin to unravel. The decision he makes in the end shows his courageous side.
In other words, a clear conscience is the softest pillow.
In his first novel, 2012's "The Greatest Show on Dirt," Bailey focused on the Durham Bulls, the current North Carolina minor-league affiliate of the Tampa Bay Rays. His characters were quirky, diverse and memorable. In "Nine Bucks a Pound," Bailey is all over the map, in places like the Quad Cities on the Iowa-Illinois border, Fort Myers, Minneapolis and Seattle.
The characters in "Nine Bucks a Pound" are fuller and richer. Seattle native Tanner is conflicted, brooding and insecure. He takes solace from the advice of his father, Milo, a bridge tender whose own dreams of playing baseball were dashed years ago due to disability, but who always radiated positive energy. Tanner's mother, Gwen, is a barmaid with "mischief-laden emerald eyes" that have been worn down by years of hard working and drinking.
Dana Skoog is Tanner's long-suffering, sometimes mercurial girlfriend who becomes his wife. She struggles to make Tanner realize what is important in life, but by the end of the book, Dana realizes what is crucial and adapts accordingly.
A side note: I thought Dana Skoog was such an unusual name, I did an Internet search. There's a Dana Skoog who was a member of the Western Washington University rowing team in 2013. Hometown? Seattle. Literature is full of unintentional coincidences.
Wicker's luck as an agent runs out and he finds himself in that cubicle, but he also realizes what is important and adjusts.
Bailey's time line covers the seven-year period from 2003 to 2010. He worked for the Durham Bulls from 1990 to 1993, so Bailey is familiar with the earthy, needling and crude language of baseball players. He presents it well in "Nine Bucks a Pound" with a realistic dish of profanity served up with top dog-bottom feeder mentality that resonates.
The reader may feel a degree of satisfaction when a boorish character like Chad Skeen, an obvious juicer, meets an untimely end. Or they may chuckle at Ryan Edsell, who claims to be a six-footer but doesn't come close, even with his blond hair spiked into a rooster comb. Edsell is a pepper pot, an earthier version of Dustin Pedroia who is not afraid to mix it up with teammates, opposing players and even umpires.
The steroid dealer, Jesus Cardona, uses a funeral home as a front to dispense his pills.
Bailey's second novel mixes baseball, romantic tension and testosterone into a satisfying cocktail of prose. It bubbles and percolates with action and tension. Even the cover is eye-catching, as it depicts a bobblehead of a baseball player wielding a syringe like he would grip a bat (I collect bobbleheads; this idea by Rey Flores was really cool).
Bailey, who has written pieces for Baseball America continues to blog at http://www.baileysbaseballbookreviews.com/. He has shifted his focus from reviewing books and is devoting more time to his own writing. He notes that he is "less comfortable reviewing other writers' babies, now that I have two of my own to focus on."
I am looking forward to a third literary "baby."
---
A year-by-year look at Wrigley Field
Posted Mar 5, 2014 by Bob D'Angelo
Updated Mar 5, 2014 at 08:50 PM
Already, there have been several books written about the 100th anniversary of Wrigley Field, the venerable baseball home of the Chicago Cubs. That's a given. An afternoon at Wrigley is what baseball is all about — the sights, sounds and smells ooze nostalgia.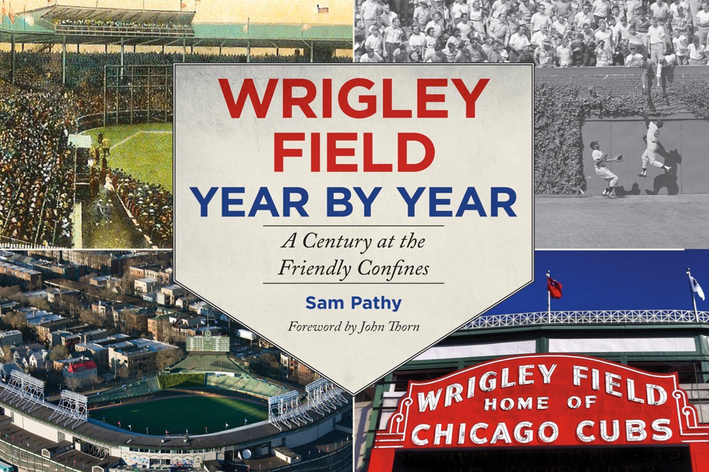 "There's something about going to Wrigley Field on a summer afternoon," Rick Talley wrote nostalgically in the Chicago Tribune in 1975.
Or, if you want a more cosmic view, here are the thoughts of the Spaceman, former pitcher Bill Lee.
"I love Wrigley Field. If I was bringing a friend here from China, I would bring him to Wrigley Field," Lee told the Chicago Tribune in 1979.
Granted, Lee is not Ernest Hemingway ("I would like to take the great DiMaggio fishing," the author wrote in his novel, "The Old Man and the Sea"), but you get the idea.
Wrigley Field has a rich history that can be enjoyed by old men and young men (and women). Leave it to a librarian to dig up some of the best, obscure, funny and interesting facts about "The Friendly Confines."
The first two quotes above come from the coffee table-sized book put together by Sam Pathy that is the "culmination of my lifelong love affair with Wrigley Field." The result of 26 years of research is "Wrigley Field: Year by Year: A Century at the Friendly Confines" (Sports Publishing; hardback; $35; 364 pages). Pathy grew up on the north side of Chicago and attended his first game at Wrigley on July 24, 1969, a Thursday afternoon game that saw 26,476 fans watch the Cubs beat the Dodgers 5-3.
Pathy is a member of the Society for Baseball American Research. What sets this book apart from other efforts is Pathy's year-by-year look at the ballpark. The park's 99 seasons are broken down into nine chapters (or innings). Each season contains facts about Opening Day (or the home opener if the Cubs were on the road to start the season), season records, records at Wrigley, attendance figures, the game of the year, the quote of the year, and what was new at the ballpark that season. There is also a section called "Bear News," which devotes space to the actions of the Chicago Bears, who called Wrigley their home until 1970.
The facts Pathy unearths are a delight. For example, in 1951, Sam Snead hit a golf ball over the scoreboard in center field (he used a 2-iron). In January 1944, the Norge Ski Club of Cary, Ill., moved its annual ski jumping tournament to Wrigley and attracted more than 11,000 fans during the two-day event. In 1954, the Harlem Globetrotters invaded the park for an Aug. 21 game.
Chicago might be known as the Windy City, but the only game at Wrigley ever canceled due to winds occurred on June 6, 1917, when gale-force winds howled through the ballpark.
It was so cold on Opening Day in 1933 that the band at the park played "Jingle Bells." And for proponents of speeding up the game, very few games matched the 58-minute contest played on Sept. 21, 1919, when Grover Cleveland Alexander pitched a 3-0 shutout against the Boston Braves. In a June 13, 1955, game between the Cubs and New York Giants, Eddie Miksis and Willie Mays smacked home runs that hit the same car parked on the north side of Waveland Avenue. The balls hit the car's windshield and side window; the Cubs paid for the damage.
Charts and maps are nice supplements to the text and the vintage black-and-white photographs. One map charts all the businesses that surrounded Wrigley. Another chart lists the streets around Wrigley Field and who (or what) they were named for. Sheffield Avenue, for example, was named for Joseph Sheffield, a farmer, land speculator and founder of the Chicago, Rock Island and Pacific Railroad. Sheffield gave Waveland Avenue its name, noting that the street's easternmost end "was frequently submerged by Lake Michigan."
The park has seen its share of weird events, like on July 7, 1993, when Reds reliever Tom Browning (in uniform) crossed the street and went to the roof of 3643 Sheffield Ave. to chat with fans. Or on Aug. 26, 1929, when Norm McMillan hit the strangest grand slam in baseball history. McMillan lined a shot down the third-base line that disappeared. After the Cubs scored four runs, the ball was found — it was inside the sleeve of Ken Penner's warm-up jacket on the ground in the Cubs' bullpen.
It was the final home run of McMillan's career, but this quirky fact reveals one of the few mistakes in the book: Pathy writes that the eighth-inning grand slam was the catalyst for an eight-run inning, but both baseball-reference.com and retrosheet.org list it as a seven-run inning.
The other mistake was the misspelling of the owner of the NFL's Chicago Cardinals in 1933, Charles Bidwill. Pathy, like many others, wrote the last name as "Bidwell."
The mistakes are few. And there is plenty of enjoyment. It's the type of book one can pick up, turn to a page, and learn something new each time.
---
Leaf previews classic designs in Originals football
Posted Mar 5, 2014 by Bob D'Angelo
Updated Mar 5, 2014 at 07:04 PM
Leaf is going back to its roots.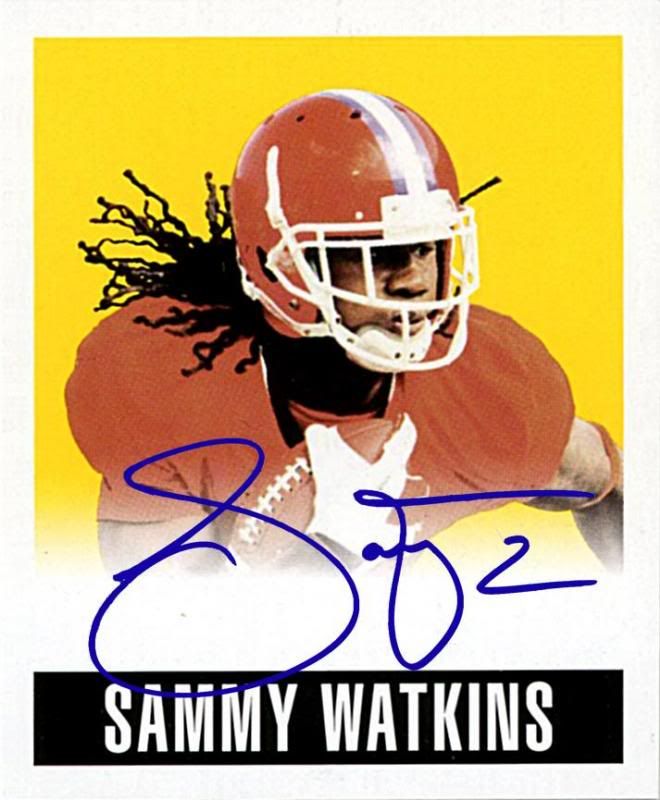 On March 28, the trading card company will release 2014 Leaf Originals football set, using designs from its 1948 and 1960 baseball sets. And make no mistake, Leaf had some very solid designs in 1948 and 1949. That simple design will be used to better effect on Leaf Originals.
A box will contain five cards, but all five will be on-card autographs. Plus, there will be parallels, including 1/1 cards.
The set will consist of 1948 Originals autographs, along with 1948 Originals Alternate Art autos. The latter group will use the same players, but with an alternate image.
Like the 1948 version, the 1960 design also will feature on-card autographs with parallels as low as 1/1s.
Masterworks Autographed art cards will feature projected top draft picks from the 2014 NFL draft, with original artwork for each player. These will be 1/1 cards too.
The Hot Rookie Redemption program returns for a second year. Last year's Leaf Metal and Valiant sets featured such a redemption, which turned out to be a Johnny Manziel cut signature card. Once again, Leaf is being coy about who this year's subject might be. It could be Manziel again, or perhaps Jadeveon Clowney, Blake Bortles, Teddy Bridgewater, Sammy Watkins or Kelvin Benjamin.
The possibilities, Leaf notes on its product sell sheet, "are only limited by your imagination."
We'll find out soon enough.
---
Mo respect: Book compiles players' memories of facing Mariano Rivera
Posted Mar 2, 2014 by Bob D'Angelo
Updated Mar 2, 2014 at 11:40 PM
Without question, Mariano Rivera was the most dominant closer in major-league history. No other relief pitcher came close. In a 19-year career, the New York Yankees' star went 82-60 in the regular season and saved a record 652 games. His ERA was 2.21.
Rivera was even more special in the postseason, going 8-1 with 42 saves and an ERA of 0.70.
When Metallica's "Enter Sandman" played at Yankee Stadium to herald Rivera's entrance into the game, that was almost always the death knell for opposing teams.
He was fun to watch. I recall seeing him warm up in the bullpen at Tropicana Field for a 1999 game against the Rays, and I was struck by his easy motion and how loudly the ball sounded when it hit the catcher's mitt.
At the time, I wondered what it must be like to bat against him. After reading David Fischer's book on Rivera, it's no longer a mystery.
Fischer interviewed more than 150 players, managers, coaches and scouts during the 2013 season and compiled them into a fun read, "Facing Mariano Rivera: Players Recall the Greatest Relief Pitcher Who Ever Lived" (Sports Publishing; hardback, $24.95, 276 pages). Most of Fischer's interviews took place in the days following the 2013 All-Star Game, when Rivera made a final, emotional appearance for the American League squad.
The common threads that run through the book are Rivera's ability and humility. Also, how left-handed batters knew they were going to break their bats against Rivera's cutter. And the comments Fischer got were priceless:
"He owes Louisville Slugger a ton of money," catcher A.J. Pierzynski said.
"The guy is like ice," said Jason Giambi, who batted against Rivera and also was a teammate.
"It's like going to a gunfight with a knife," former Rays center fielder B.J. Upton said.
"He was a constrictor," Scott Hatteberg said. "He slowly sucked the life out of you and then the lights went out."
The book is divided into six sections with chapters for infielders, outfielders, catchers, pitchers, designated hitters and management. An interesting piece of trivia: Joe Girardi was the catcher when Rivera recorded his first save (May 17, 1996), and was his manager for Mariano's final save in 2013.
The subjects' observations are insightful and complimentary, but what is striking is how their opinions also embrace Rivera's character. Through the years, some relievers have been demonstrative and bombastic, but Rivera always remained calm. He'd enter the game, throw that nasty cutter and then walk off the mound with another save.
"Once you get to know Mariano, you respect him more as a person more than as a player," outfielder Torii Hunter said.
Fischer adds plenty of facts and trivia to each interview. The players' career statistics against Rivera are listed, along with those players' overall stats. A piece of trivia called "Mo Cred" is added, giving the reader additional information about Rivera.
For example, Tim Salmon was the first player to get a hit off Rivera, while outfielder Lew Ford batted more times against Rivera in the postseason (three at-bats) than he did in regular-season play (two at-bats). And Jorge Posada was the catcher for 368 of Rivera's saves (Girardi is No. 2 with 73).
"The best thing about catching him is that I never had to bat against him," Posada said.
Rivera lost only one postseason contest — Game 7 of the 2001 World Series, when Tampa native Luis Gonzalez blooped an 0-1 pitch over a drawn-in infield into left-center for the game-winning single.
"It's weird because every time I go somewhere, somebody talks about that hit," said the former Jefferson High star, who had 2,591 hits, 354 homers and 1,439 RBIs during his 19-year career (and five RBIs during the 2001 World Series). "But when they say 'to win the World Series' that means a lot.
"He is truly the ultimate professional," Gonzalez said. "Whether he wins or loses, he has the same reaction."
And like all good closers, he has a short memory. In the spring of 2002, Tampa Tribune columnist Martin Fennelly was interviewing Rivera and brought up that final play of the '01 Series. Rivera waved him off, essentially saying that what happened the previous fall was history and nothing to worry about. Time to move on, he said. What's done is done.
The book is certainly a tribute and a Rivera lovefest, but even those who have clashed with the reliever had kind words.
Joba Chamberlain had a tense exchange with Rivera before a May 11, 2013, game in Kansas City against the Royals, but even he professed his respect and talked about pranks Mariano would pull in the bullpen to ease the tension.
"People have no idea (there is) this side of him," Chamberlain said. "If only they could see half the stuff I can't talk about!
"But that's the fun part for us, seeing the human side of Mariano, because when he pitches he's really not human."
The subtitle of Fischer's book sounds bold, which conflicts with Rivera's calm personality, but can one really argue differently?
---
Stickwork an intriguing hockey product from In The Game
Posted Mar 2, 2014 by Bob D'Angelo
Updated Mar 2, 2014 at 02:21 PM
If you are a hockey card collector, In The Game's Stickwork product is an attractive, different — and limited — alternative to other products that contain game-used material. And expensive too, at approximately $130 to $150 per box for a three-card set.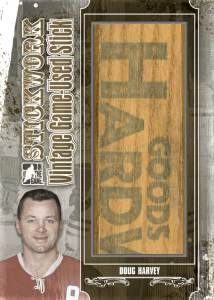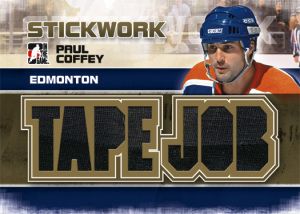 It's even innovative, and In The Game does not shy away from saying so in its release that accompanies its product information sheet. It's kind of a slapshot at other companies, if you will:
"Let's face it, it is easy to acquire an old hockey card brand produced in the 1990s, use similar designs and make cards of the same players you just released in your last six products."
Reminds me of the chicken hawk latching onto Foghorn Leghorn's leg in those vintage 1960s cartoons. Hey, it's OK to try and put yourself in the same class as the big boys. Panini America and Upper Deck currently share the license to produce NHL cards with team logos, etc. You decide who's being ripped …
Shots across the bow notwithstanding, Stickwork is an intriguing product. Only 2,500 boxes have been produced, and each box contains three game-used stick cards, ranging from the 1930s until the present. The cards have been placed into magnetic holders.
The Game-Used Stick insert highlights NHL stars from the past and present, and also takes a look at up-and-coming players. Each player is featured in 19 silver and one gold version. Players to look for include Lightning general manager Steve Yzerman (during his playing days with the Detroit Red Wings), Mark Messier, Evgeny Malkin and Mario Lemieux.
Vintage Game-Used Stick cards are very nice. These are pieces of hockey sticks from some of the game's greats and is limited to nine silver and one gold version. Player sticks include those of Maurice Richard, Jacques Plante, Terry Sawchuk and Ted Kennedy.
Enshrined Game-Used Stick cards showcase pieces of sticks from Hall of Famers. This lineup includes Bobby Hull, Marcel Dionne, Doug Gilmour, Denis Potwin and Ron Francis.
Goalies are also part of Stickwork, and Goalie Game-Used Sticks also has Goalie Paddles as part of the insert. Some of the goalies represented are big names like Grant Fuhr, Patrick Roy, John Vanbiesbrouch and Kari Lehtonen.
Oh, and roll the tape, too. A stick tape insert will have four different subsets: Tape Job, Tape To Tape, 500 Goal Scorers' Tape and Vintage Stick Tape.
There are three different sets in the Stick Rack insert group: dual, triple and quad.
Lumbergraphs are pieces of hockey sticks autographed by the players. Definitely a nice touch, especially with autographs from players like Eddie Shore, Frank Mahovlich, Toe Blake and Bernie "Boom Boom" Geoffrion.
And finally, Stick Handles is a 1/1 insert that shows the players' names on the their stick shafts (also known as handles).

Stickwork is definitely an interesting product, and while it may be costly, there seems to be plenty of good cards to make most collectors happy. And chicken hawks, too.
---