Back to the Rays Report
Roger Mooney
Roger Mooney covers the Tampa Bay Rays for The Tampa Tribune, TBO.com and News Channel 8. He has covered the Rays since their first season in 1998, including 11 years for the Bradenton Herald. Roger has also covered Florida, South Florida and Florida State football, the Bucs and the Lightning.
@RMooneyTrib

TBO_Rays

Send us your questions
More Links:
Most Recent Entries
Monthly Archives
Rays @ O's: Brrrrrrrrrr
Posted Apr 16, 2014 by Roger Mooney
Updated Apr 16, 2014 at 12:01 PM
ROGER MOONEY
BALTIMORE – The Rays and Orioles conclude this rain-shorten series this afternoon on a chilly day in the Inner Harbor. More football weather than baseball weather.
In fact, the Orioles grounds crew had to chip ice off the tarp before uncovering the field this morning.
The high today is supposed to be 51, but the wind chill will make it feel much colder. Forget it if your seat is in the shade.
The teams might be playing a doubleheader today if O's manager Buck Showalter had his way. Before Tuesday's game was rained out, Showalter told the O's writers, "I think our guys are mature enough to understand there's a price to pay for doubleheaders, especially when they are put off until August."
When told of Buck's thoughts, Rays manager Joe Maddon said, "We'd be much more mature if we had a day off."
The Orioles are off Thursday.
Maddon also said it rained so much Tuesday even the mailman would have taken off.
Before today's game Showalter admitted a doubleheader today would not have been a good idea since a number of is players are fighting the flu.
No word yet on when the rainout will be rescheduled.
Looking ahead, Maddon announced the rotation for the four-game series with the Yankees that begins Thursday: David Price, Erik Bedard, Chris Archer, Cesar Ramos.
Here are the lineups:
RAYS
Zobrist 2B
Myers RF
Joyce DH
Longoria 3B
Loney 1B
Jennings CF
DeJesus LF
Escobar SS
Molina C
—
Odorizzi P
O's
Markasis RF
Cruz DH
Davis 1B
Jones CF
Wieters C
Hardy SS
Lough LF
Lombardozzi 2B
Flaherty 2B
Flaherty 3B
—
Gonzalez P
---
Five Berkekey Prep student-athletes to be recognized at signing ceremony Wednesday
Posted Apr 15, 2014 by Nick Williams
Updated Apr 15, 2014 at 05:06 PM
Four student-athletes from Berkeley Preparatory School will sign National Letters of Intent while another will be recognized as a preferred walk on in a joint ceremony on Wednesday at 10 a.m. in the school's Lykes Center for the Arts on Berkeley's campus.
Warren Backman (Soccer) Emerson College
Marshall Holmes (Basketball) University of Central Florida (preferred walk on)
Paola Maymi (Track and Field) Bowdoin College
Nikki Potts (Diving) University of Florida
Maddie Raquet (Volleyball) Troy University
---
Gulf softball coach Rick Hohenthaner resigns after 12 seasons
Posted Apr 15, 2014 by Andy Villamarzo
Updated Apr 15, 2014 at 10:31 AM
One of Pasco County's longest-tenured softball coaches will no longer be roaming the dugout.
Gulf softball coach Rick Hohenthaner has officially resigned as head coach Tuesday morning, Hohenthaner told the Tampa Tribune. His resignation comes a day after Gulf (17-5) was upset by Sunlake 2-1 in the opening round of the Class 5A-District 8 tournament at River Ridge High.
Hohenthaner took over Gulf in 2002 and immediately started to makes changes in the right direction. Gulf reached the postseason in 2005 and defeated Crystal River in a region quarterfinal matchup.
Last season, the Buccaneers won the school's first district title in softball and reached the region semifinals before being upended by Brooksville Hernando 3-1.
Correspondent Andy Villamarzo can be reached at .(JavaScript must be enabled to view this email address) and follow him on Twitter @avillamarzo.
---
Leaf heads to auction with Manziel predictor packs
Posted Apr 14, 2014 by Bob D'Angelo
Updated Apr 14, 2014 at 08:33 PM
Leaf is taking a different approach to reaching consumers — through eBay. And the lure is former Texas A&M quarterback Johnny Manziel.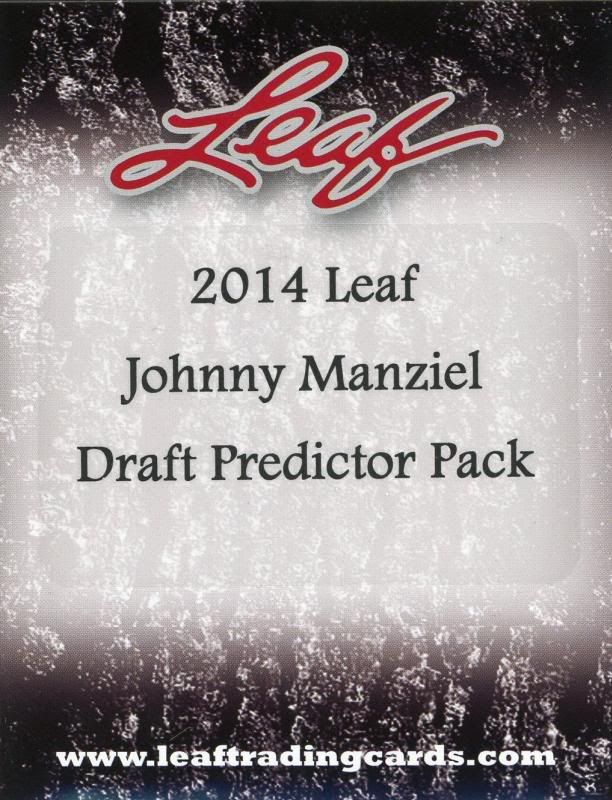 Leaf is offering draft predictor packs for $9.99, plus $2.99 for shipping. Each pack will feature Manziel against a backdrop of the city skyline of one of the 32 teams that might draft Johnny Football in the upcoming NFL draft.
There will be 41 cards of each team, or 1,312 total packs.
Nearly 10 bucks plus three more for standard shipping seems steep, but here's the enticement. If a collector pulls the card depicting the team that drafts Manziel in the draft, it can be redeemed through Leaf for an autographed version of that card. Naturally, there will only be 41 of these cards in the set.
Leaf will only accept payment through PayPal, and orders only from the continental 48 states.
Here is the link to the auction:
http://www.ebay.com/itm/2014-Leaf-Johnny-Manziel-Draft-Predictor-Packs-eBay-Exclusive-/331177628692?
By the way, the eBay "seller," leaftradingcards, has a 100 percent positive feedback rating.
---
Panini provides a look at 2013-14 Signatures basketball product
Posted Apr 14, 2014 by Bob D'Angelo
Updated Apr 14, 2014 at 07:10 PM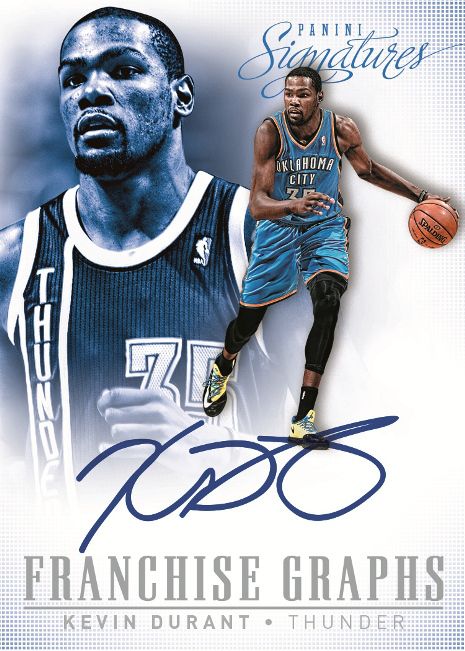 For its second installment of Signatures basketball, Panini America is hoping that its relatively light boxes will yield some heavy hits for collectors.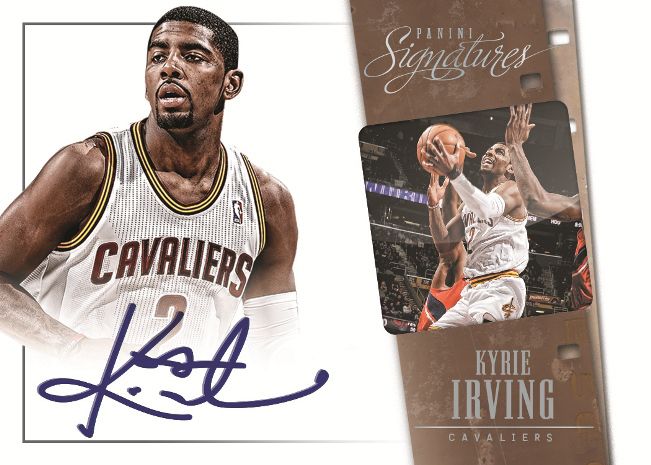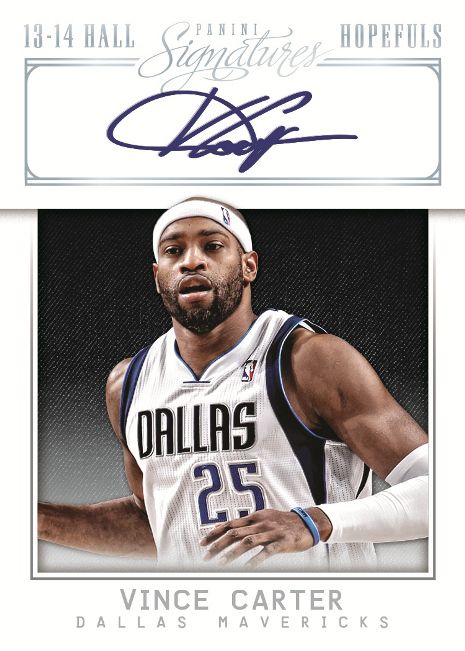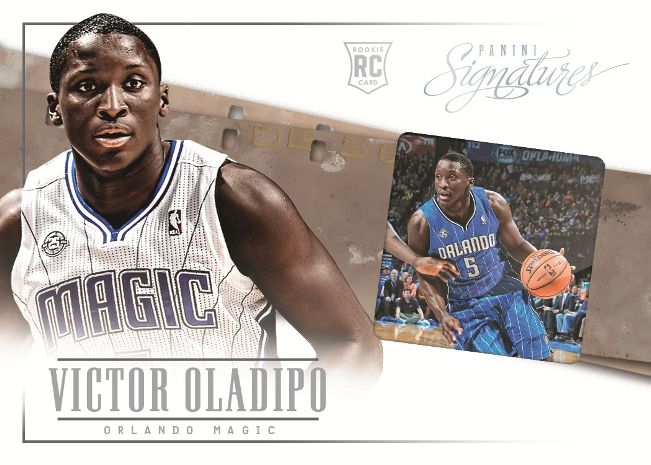 OK, I don't know the weight for a box of 2013-14 Signatures basketball, but I do know that each box will contain two packs, with two cards to a pack. Panini is promising two autographs, one Film card and a Chase insert card (it could be a rookie or a veteran) per box.
Also included in each box will be a 2014 NBA draft exchange card that will be good for a rookie from the 2013-14 draft.
Some highlights: the Film rookies autographs will draw from 25 of the NBA's top rookies. There will be seven new autograph inserts, including History of the Hall and Franchise Graphs.
The Chase cards will be numbered to 25 or less.
---