Free and Cheap
Follow us on Twitter

Like us on Facebook

Janine Dorsey
Janine is a 20-year veteran journalist who puts her sleuthing skills to use unearthing deals and discounts for families in the Tampa Bay area. Raising her own two daughters has taught her that some of the best things in life are "free" but not necessarily "cheap."
Most Recent Entries
Monthly Archives
Free doughnut on Halloween
Posted Oct 23, 2012 by Janine Dorsey
Updated Oct 23, 2012 at 01:43 PM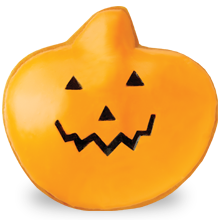 Halloween fans can earn a free doughnut just by sporting their costume on the big day.
Costume-clad customers dressed like witches and elves, political figures and more will get a free Halloween or pumpkin spice doughnut at participating Krispy Kreme locations on Wednesday, Oct. 31 while supplies last. No purchase is necessary. The offer is limited to one doughnut per customer.
Both Tampa Krispy Kreme locations are confirmed to be participating. For more locations, visit the Krispy Kreme website.