Free and Cheap
Follow us on Twitter

Like us on Facebook

Janine Dorsey
Janine is a 20-year veteran journalist who puts her sleuthing skills to use unearthing deals and discounts for families in the Tampa Bay area. Raising her own two daughters has taught her that some of the best things in life are "free" but not necessarily "cheap."
Most Recent Entries
Monthly Archives
Free breakfast at Sam's Club on Black Friday
Posted Nov 20, 2012 by Janine Dorsey
Updated Nov 20, 2012 at 12:44 PM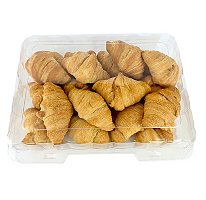 Sam's Club members who want to hunt for bargains on Black Friday bright and early needn't fuel up first. Shoppers will be treated to a complimentary breakfast at all Sam's Club locations on Nov. 23.
The free offer includes Starbucks Holiday Blend coffee and Artisan Fresh pastries, baked fresh in the store.
Doors will open at 7 a.m. on Friday, Nov. 23.
The free breakfast offer is good while supplies last.