Most Recent Entries
More
Monthly Archives
Up Close with Clay Lipsky
Posted Jun 9, 2010 by Angus Shafer
Updated Jun 9, 2010 at 02:42 PM
While out at the "Dirty" exhibit at the Tampa Museum of Art on Friday night, I was able to shoot this quick interview with participating photographer Clay Lipsky.
Clay is a Clearwater native and a 1993 graduate of Berkley Prep. Since then he has steadily moved west and now resides in Los Angeles.
A multi-Emmy Award winning designer/director. Clay is now focusing his free time on photography. The crisp colors of Clay's work first caught my eye. I thought these photos were most likely prepped in a photo editing software, but was pleased to find out they were not.
Clay explains his work.
---
"Dirty" A Night of Art and Music at the Tampa Museum of Art
Posted Jun 4, 2010 by Angus Shafer
Updated Jun 4, 2010 at 02:05 PM
Gonna head out to the Tampa Museum of Art tonight for their show featuring works by Clay Lipsky, Rudolph Lopez and Daniel Mrgan.
Here is the Press Release pulled from the TMA's site.

"Dirty," A Night of Art and Music
Get Dirty with Friends while we explore nature with artists Clay Lipsky (goclaygo.com), Wesley Allen (fromtheearthpottery.com), Rudolph Lopez (rudolphlopez.com), and Daniel Mrgan (danielmrgan.com).
Dirty will be held Friday, June 4, 2010 from 7:30pm to 10:00pm at the Tampa Museum of Art and will feature Art of Sound by Josh Wilkins, hors d'ouevres my Mise en Place, and cash bar. The event is FREE for Friends, $5 for Members, and $10 for Non members.
Friends is a volunteer group made up of current museum members and created to promote and support the Tampa Museum of Art . Friends hosts and assists with special events to raise funds for educational programs and acquisitions. Now, for $25 added to your membership, you can be a Friend. For more information, please email .(JavaScript must be enabled to view this email address) or call 813.421.8370.
---
Rough Draft Polish
Posted May 27, 2010 by Angus Shafer
Updated May 27, 2010 at 08:56 AM
I finally made it over to check out the Rough Draft Polish show at Cafe Hey last weekend. If you have not made it, make sure to. Cafe Hey's shows usually run for about two months.
There are works having by Paul Valentine, Eli Cannon and April Childers.
Here are some pics of Eli's work. I really enjoyed her colors and content.
"Of Fawns"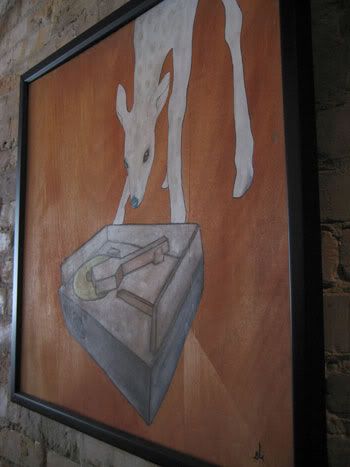 "Bear Boy"
"Skeleton Key"
Here are some of Paul's photos, I recommend seeing them in person rather than my dodgy photo on photo crime.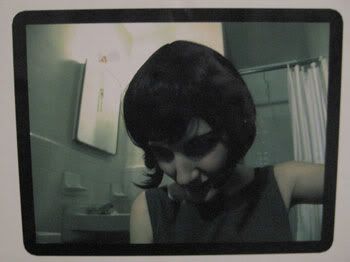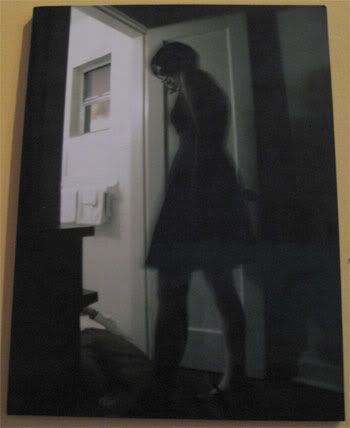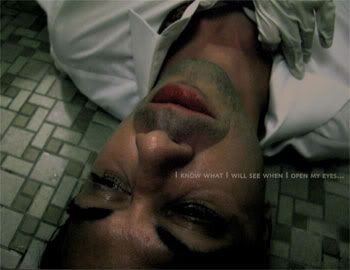 My photos of April's work were to grainy to post. Sorry.
---
UP CLOSE WITH CHRIS DEACON
Posted May 6, 2010 by Angus Shafer
Updated May 6, 2010 at 08:45 AM
Chris Deacon is the latest in a line of local artist to present his work in the Urban Outfitters Artist Window.
Here are some words from the artist explaining his installation and art process along with some photos of the window.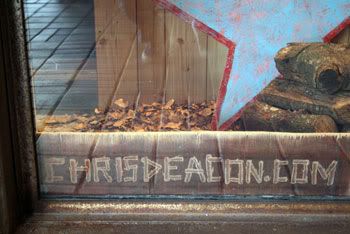 Tart: Who are you and what your work is about?
Chris: My name is Chris Deacon and I'm an artist living in Tampa with my wife, Jessica and daughter, Lily. For several years now, my work has reflected on biographical and cultural memories. I think of my work like I think of life, a dark comedy. To me, it is a series of humorous events intertwined with punctuations of tragedy. More specifically, I find myself interested in a kind of neo-regionalism with a twist of Americana underbelly. I respond to my surroundings, both past and present. My process becomes a constant struggle to assimilate where I have been, where I am, and where I am heading.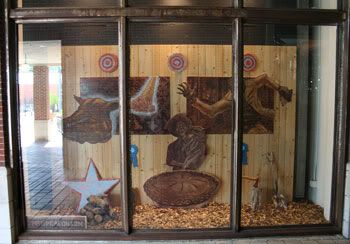 Tart:Explain your art history and what you do day to day.
Chris:I first started taking art classes at HCC in Ybor City. Then I transferred to the University of Florida in Gainesville, where I received a Bachelor's in Fine Arts in 1999. Next, I moved back to Tampa and received my Master's in Fine Arts from the University of South Florida in 2002. Over the years, I have done several shows locally and nationally. I also have two pieces in the contemporary collection at the Tampa Museum of Art.
For the past three years, I have been an instructor for the Art Institute of Tampa. I currently teach several drawing and sculpting classes for them. It's a great job that is a perfect fit for me. It is very rewarding to be a facilitator for students who want to become artists and designers.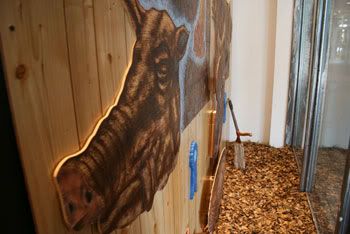 Tart: Explain your artist window.
Chris: The window display that I recently installed at Urban Outfitters is titled "Who Wants Pie?" Conceptually, I was interested in portraying (on the surface) a southern county fair. The work is very character driven and started with the idea of a preacher who is constantly running for Jesus. The piece is intended to be multi-faceted with several open ended questions. Ultimately, what's in the pie?
As I was working on the two-dimensional pieces, I wanted to find ways for the work to begin to spill into the viewer's space. I wanted also to make the best use of the window's depth. I then decided to create cut-outs that would be blocked off of the wall at several different distances. Additionally, I arranged objects that seemed to fit thematically, such as the hatchet, shovel, and logs. These objects become a hinge between us and what is on the wall.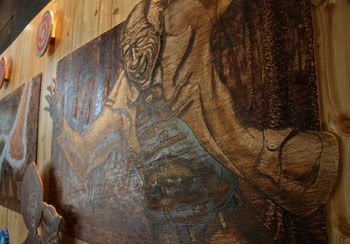 Tart: Why Tampa?
Chris: I love Tampa! I love its beauty and its grit. I think that Tampa is really starting to experience a growth spurt that I believe will create even more opportunities for artists. I am really pleased that we finally got the new art museum. However, I do wish that there were more places to show in Tampa. I enjoy a grass roots kind of space that is not afraid to show edgy and experimental work. The Skatepark of Tampa is one of the few right now that is willing to do that. I miss places like Covivant on Florida Ave. The shows were always a lot of fun.
Check out more of Chris's work at chrisdeacon.com
---
The 600 Block
Posted May 4, 2010 by Angus Shafer
Updated May 4, 2010 at 09:47 AM
On Saturday May8th, "The 600 Block Party" (between 6th and 7th St. on Central Ave.) in downtown St. Pete, Central Ave. will be closed to traffic between 5PM to 11PM to celebrate the Grand Opening of the Crislip Arcade, plus thirty new businesses including galleries, boutiques, film studios, art & design studios and music outlets.
There will be dancing-in-the-street music with Lounge Cat, Fall on Purpose and DJ Mega. A fashion Show featuring styles from all the cool shops on the block! The Saturday Art Walk, including Florida Craftsman and The Arts Center.
This event is free. Food and drink will be available for purchase.
VITALE ART STUDIO
"There Goes The Neighborhood" Art Show with Art by Tom Thewes, Frank Strunk III, Jeff Srsic, Andrew Spear, Allen Hampton, Brandon Dunlap and BASK.
BLUELUCY
"COMPUTE THIS" An exhibit of paintings, prints and products by Phillip Clark and Chad Mize of Bluelucy. Come explore the Bluelucy Gallery and Studio as they showcase new works, styles and designs.
---